William Albert Green (Will A. Green) was born in Birmingham, England in 1907. In 1952, with his wife Edith and two children (Edwin and Marian) he moved to Ludlow in Shropshire. He died in 1984.
He began drawing in his teenage years, using pencil and water colour, but then turned to pen and ink working. He continued until a few years before his death although he suffered throughout his life with defective eyesight.
He concentrated on the historic buildings in the English Midland counties. The majority being in the Birmingham and Warwickshire area where he spent the first part of his life, and in Shropshire, a county which became his home in later years.
The collection also includes many scenes in the towns and villages of Worcestershire, Herefordshire, Gloucestershire, Staffordshire, Leicestershire, Nottinghamshire, Derbyshire, Northamptonshire, Oxfordshire and a few further afield in Cheshire, Lincolnshire, Somerset, Devon, Cumbria, Dyfed, Pembrokeshire, Powys and London.
Initially the drawings were for his own collection. But later he sold them at a nominal price to family and friends, then a major Midland omnibus company used some of the pictures to illustrate their tour guides.
His pictures appeared for many years in The Birmingham Weekly Post illustrating a weekly rambling article by John Hingley and in other Midland newspapers including The Sunday Mercury, The Birmingham Post, and The Birmingham Mail.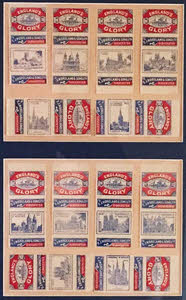 The drawings also appeared in magazines such as The Shropshire Magazine, in English Counties guide books published by the Littlebury Press, and a series CATHEDRALS OF BRITAIN appeared on the back of England Glory matchboxes.
His method was to make a pencil sketch on location (travelling by bicycle or public transport) from which he would later trace the outline onto cartridge paper and then complete the drawing using Indian Ink and a fine mapping pen.
Many of the buildings have been demolished, and so this collection forms a valuable historic record which we wish to share with others.
If you have any information or stories about these buildings we would be pleased to hear from you. Also we would be delighted to hear from anyone who has any of W.A. Green's drawings which do not appear on this website.
Please contact :-
wag@ewgreen.org.uk
---
PRINTS
You may freely download these pictures for non-commercial use, but please show an acknowledgement to this web site in any printed material or web page.
The web pictures are compressed and do not show the fine pen work. High resolution prints are available on 225gsm A4 (the size of the original drawing) Enhanced 100% cotton based fine art ink-jet paper (archival sheet buffered to help protect against pollutants) for £6.00 plus £2.00 post and packing 1st class Royal Mail (UK). A discount will be made if the original drawing is not available for reproduction (indicated on the relevant web page) or if multiple copies are ordered.
Please contact :-
wag@ewgreen.org.uk for availability, price quotation and method of payment.
---
LINKS
Links to external sites are shown on the relevant page and on
GENERAL LINKS
page.
If you have a web site dealing specifically with any of the buildings, then you can have a return link placed on the appropriate page.
If it is a site of more general interest then it will placed on the GENERAL LINKS page.
---